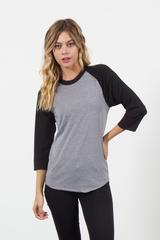 As a kid I always loved when my grandparents would bring me souvenirs from around the country. Because I was a kid, I didn't notice the poor quality of the tee shirts they would get me. Looking back, it was probably much better that they were cheap and durable anyhow. Growing up, I started to care a bit more. That boxy fit and stiff fabric didn't do it for me. Great for yard work, but not for the public.
The point of selling retail is to get your name out there and increase your bottom line.
In order to
do that, you need to provide something your customer loves to wear. Don't make the mistake of thinking you have to buy top-of-the-line garments that destroy your margins. Here are a few brands in the Goldilocks zone where quality meets price point. Aka, value. See below for a list of our favorites!